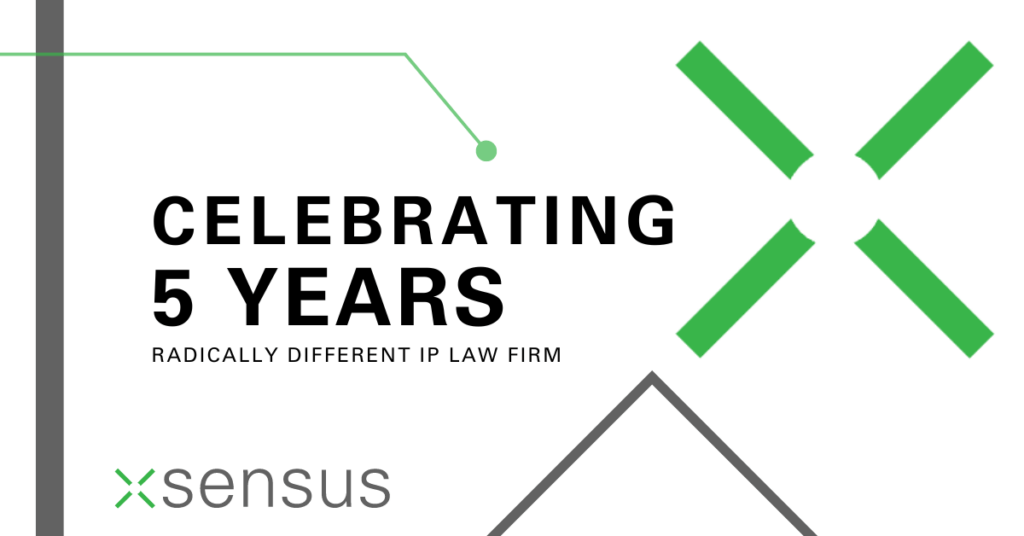 In 2018, Xsensus LLP was founded by a group of elite partners and top administrators from a few large Intellectual Property (IP) law firms. We knew we wanted to create a law firm that was radically different, and for five years we've stayed true to our core values: relationships, teamwork, diversity and inclusion, our local community, and human connection.
"Our goal has always been to invest in the brightest minds while maintaining a non-traditional work environment as both the clients and the team benefit from this. Seeing our efforts payoff is a great feeling, and we continue to look forward to the future of this firm."

-Andrew Harry, Co-Founder and Attorney
While larger firms often try to contain costs by having less experienced patent agents or technical advisers produce work while being supervised by a partner, Xsensus focuses on an open and collaborative environment between our experienced attorneys. This enables us to be free of the inefficiencies that plagues so many of the traditional prosecution firms. We respect each other and share a common vision of making our clients happy and successful.
This culture allows the same attorneys who worked at Big Law to now work in an environment where it's encouraged to take time to get to know each client's real interests, enabling us to find issues with patents and procedure, and provide tailor-made solutions. Our clients are deeply appreciative of working with attorneys whose main aim is to address the issues that are important to their well-being. We enjoy working directly with our clients and local firms to solve their issues. This love of what we do, this deep enjoyment of our work, along with our commitment to our clients, has made us who we are today. We are extremely honored to be the go-to firm for so many companies.
Growth and Success Since 2018
This relationship-driven focus, combined with proximity to the USPTO, provides clients with extremely efficient results. We even host some of our clients' in-house counsel, allowing them to experience working directly with Xsensus' attorneys on a daily basis. All of these factors have contributed to strong and stable growth and success for Xsensus. Even during a time of social distancing, our firm quickly adapted to stay digitally connected with our clients and with each other.
"The firm's operations have been thoughtfully designed to deliver legal services in a modern, streamlined and cost-effective way, and to ensure true client-centricity — each client should feel it has truly partnered with Xsensus, not just hired Xsensus."

– Brad Lytle, Co-Founder and Attorney
A snapshot of Xsensus' patent filing and application accomplishments:
2018: 113 issued patents
2019 (First full calendar year): 799 issuedpatents (listed in the top 100 patent firms in the U.S. for obtaining U.S. patents)
2020: 1,112 issued patents (placing Xsensus in the top 100 patent firms in obtaining U.S. patents for the 2nd year in a row)
2021: Filed over 2200 patent applications
2022: 24th largest IP firm in the U.S. (in terms of issued patents), and increased filing of about 30% over 2021
This exponential growth hasn't been limited to filings.
Initially, our firm focused on electrical, software and mechanical prosecution with a focus on Japanese companies. We've evolved to encompass a more diversified and holistic service set, such as high-stakes litigation and third-party matters, post-grant proceedings (IPRs and PGRs), pre-litigation counseling, chemical prosecution, and trademark matters for a range of domestic and international companies. We've grown from five attorneys and three support staff in 2018 to a team 40+ strong today.
Xsensus now works with several Fortune 500 and multinational companies. Our practice continues to see a rapid expansion with the addition of former partners from other firms, and it's evident from the number of requests from an increasing number of clients that we're filling a void by effectively supporting companies obtain licensable patents that are cultivated via strategic prosecution at the USPTO.
We are currently on a trajectory to be the 15th largest IP firm by 2024!
Diversity and Inclusion Remain a High Priority
Xsensus is a 30% minority-owned law firm that strongly values diversity in the workplace. Since our founding in 2018, we have worked diligently to foster inclusion within the IP law community.
We recognize that our team is the strongest when multiple ideas and cultures are represented. Diverse backgrounds translate into higher rates of innovation, productivity and creativity; research supports that ethnically diverse companies outperform by 35%, and gender-diverse companies stay ahead of competitors by 15%.
We are also dedicated to an inclusive environment through our emphasis on individuality, work-life balance and an ongoing development of team culture.
"We strive to promote a welcoming workplace for employees of all backgrounds. We believe that differing perspectives lead to a more balanced and creative environment."

– Masa Yokoyama, Co-Founder and Attorney
The IP Community Has Noticed
In just five years our firm has been recognized by:
U.S. News Best Law Firms
Best Lawyers
Best Places to Work (Virginia)
IAM Patent 1000
Virginia Legal Elite
IP Stars
We're excited to see what the future holds for Xsensus!